Ten. nine. eight. seven. six. five….the countdown begins for Marlene Farrugia
Published: November 16, 2011 at 10:11pm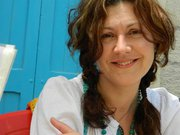 Marlene Farrugia has a problem. Before her divorce from Jeffrey Pullicino Orlando a few days ago, she had achieved fame and fortune as Marlene Pullicino (the Orlando is his personal affectation; his legal name is Jeffrey Pullicino).
Women who divorce in Malta, like women who separate at law (or for that matter, women who marry), have to decide whether they wish to be known by their married name or their birth name.
Marlene decided to go back to her birth name and is now Marlene Farrugia. This gives her roughly a year in which to rebrand herself under what is, in political circles and to her constituents in particular, her new name. It will be difficult, because people are notoriously slow on the uptake in such matters.
Marlene who?
Min?
Marlene Farrugia?
Qatt ma smajt biha.
Worse still, she's going to have to deal with a situation in which her constituents check their way down the ballot sheet, don't come across Pullicino under P, and move on.
People have enough of a time distinguishing between Marlene Mizzi (she's the one with the chauffeured toys in the official car) and Marlene Pullicino in the same party. They're going to have their heads done in when Marlene Farrugia enters stage left.
She doesn't help herself, of course. On Facebook she's still Marlene Pullicino, and in her piece today for therealbudget.com (Labour's new website) she signs off as Marlene Pullicino, PL spokesperson for utilities.
But she's started to get the word out, with this message on Facebook (that's her Facebook profile picture, incidentally – yes, she's wearing plaits like Heidi):
Marlene Pullicino
Dear friends,i hope you don't mind,but I just got my old surname back so marlene pullicino is no more.I am marlene farrugia.Thank you for understanding.xxxxxx